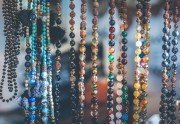 Guide to finding necklaces for your style




Necklaces can range from modern to timeless and are available in a huge variety of different materials, styles and prices. Choosing the right necklace may seem like a daunting task, but the key is to keep your personal style in mind.
Choose a necklace that suits your mood for change

Do you like to follow the trends or are you quite consistent in your tastes? Think about how you manage new fashion trends, but also think about how you can make other kinds of changes, such as new technology, changes at work, or changes in your daily routine. How you respond to changing fashions can be a great indicator of the best necklace choices for you.

    Lover of change - If you like changes and new fashions, choose popular necklaces that follow the latest fashion fashions. Consider forged metal, long statement necklaces and lots of colors.
    Routine lover - If you prefer a consistent routine and classic style, choose pieces that will never go out of style. Timeless necklace styles include gold chains, pearl pendants and plain pendants.
    Intermediates - If you are in the intermediate, try to embrace the trends in a moderate way. Instead of a bold statement necklace, think of something that incorporates some of the fashion trends. You could try a large pearl pendant on a simple gold chain.

Look at your wardrobe for necklace inspiration

Your clothes and your personal fashion style can also help you decide which type of necklace will be best for you. Do you like to turn the tables with your clothing choices? If you have a particular fashion style, you may want a necklace that matches it. On the other hand, if you want to keep it traditional and versatile, simpler designs can be more your style.

    Attractive style - If you like to attract attention with your wardrobe, look for necklaces in bold designs. Also consider designs with a rock impact.
    Classic style - If you prefer classics when it comes to clothes, keep your jewelry simple. A gold necklace with a small pendant or a strand of semi-precious beads will never go out of style.
    In between - If you like a little of both, choose a necklace that fills a gap that is missing from your wardrobe. If you need more statement pieces, look for a bold wrought iron design. If you need some more traditional necklaces to enhance your look, try silver chains, pearls and other simple styles.


Think about your lifestyle and hobbies

Your necklace personality is also related to your lifestyle and hobbies. Some materials are not suitable for an active lifestyle and others can withstand abuse. Do you do a lot of running or hiking? Or do you prefer reading or painting? What you do for your work and leisure time can affect the best necklace choice for you.

    Very active lifestyle - If you have hobbies that make heavy or long necklaces cumbersome or dangerous, try a very simple and short gold chain or a small pendant. Durable gemstones such as diamonds or sapphires can work well.
    Slightly active lifestyle - If your lifestyle is active but not extremely active, you may be able to remove a necklace or put it inside your shirt when it interferes with your activities. You will still want to stay away from too long or heavy necklaces, but most styles will be open to you.
    Quiet lifestyle - If you do not do many activities that could damage a necklace or make it dangerous to wear, you can choose any style of necklace you want. Even very long beaded necklaces or large statement necklaces can work for you.

Think about your gender identity

Some necklace styles are clearly very feminine or masculine and others are gender neutral. If you identify as a gender, you may prefer a necklace that matches this identity. Or if you do not like to advertise your gender in your jewelry, you can opt for a more neutral style.

    Feminine - Necklaces for girls or people identified as feminine tend to be delicate and beautiful, but bold bold designs can also be distinctly feminine if they are brightly colored and eye-catching.
    Men - Necklaces for men and people who are recognized as masculine are usually more substantial and simpler in style. Consider chains and basic dog pendants, as well as simple beads that are not too long.
    Gender neutral - Necklaces with a neutral gender work for everyone. The length of the necklace tends to hit the key or the top of the chest and the styles are quite simple. You will see more colored and statement pieces from men's designs, but they will be more substantial than the delicate feminine styles.

Men's necklace
Think a little about the symbolism of your necklace

Some necklaces are very meaningful and can make an important style statement in the world. Before deciding on a design, think about what the necklace symbolizes and whether it is something you want to share.

    Your birthday stone - Some necklaces have a birthday stone, and these can be very special. If you're not sure which gemstone represents your month of birth, take a look at a birthstone chart to check it out.
    Your Religion - A necklace can also have a distinctly religious design, such as a cross pendant or other symbol. These may be very specific, but they can also tell the world about your religious beliefs.
    Your name - Name necklaces are a fun way to add a personal touch to your look. There are many styles of necklaces with names, including delicate original pendants and more elaborate engraved designs.

Remember to consider the length of the necklace

Do not forget that necklaces have different lengths, which can be flattering in different body types and complement the shape of your face. If in doubt, try the necklace to see how it fits. Then ask a few questions about your fashion preferences, personality and lifestyle and you will end up with the perfect necklace to add to your jewelry collection.