Nothing found. Please repeat.
Unsupported browser. Sorry...
Back

WOMEN'S JEWELRY

Zircon Yellow Gold 14k Fine Rings

Three Stone Diamond Rings

Morganite Engagement Rings

Christian Baptismal Crosses

Diamond Crosses for Women

MEN'S JEWELRY

Signs & Symbols Rings for Men

Mens Christian Rings-Religious Rings for Men

ZIPPO COLLECTABLE LIGHTERS

WEDDING BANDS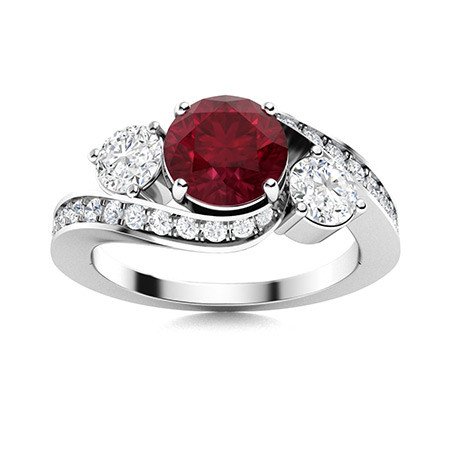 Why are rubies a great choice for engagement-wedding rings?

Engagement rings today are very personalized and are often used to convey a couple's unique story compared to a traditional ring. This has led to the rise of colored gemstones used in engagement rings in place of the traditional diamond, as each different gemstone has a special meaning to the wearer. One of the most popular choices today are solitaire engagement rings.

Our ruby ​​quality guide talks specifically about the different qualities of ruby ​​and how to best choose a ruby. Modern couples who still want a classic look often choose a ruby ​​and diamond engagement ring. These are the engagement rings with rubies as the center stone and diamonds as surrounding or adjacent stones. This offers a unique and more traditional look than the classic diamond solitaire, but personalized for the modern couple.

1) Single stone ruby ​​ring

The Solitaire ring design is the oldest and most traditional design choice for engagement rings. Solitaire rings are designed to exclusively highlight the center gemstone and are an excellent choice for the couple looking to invest in a good quality ruby.

While round-cut rubies are the traditional choice, many couples choose rubies with a different cut that adds a degree of personalization to the traditional solitaire design.

Shop VisionGold® Engagement Rings
2) Halo Ruby Engagement Rings

The ruby ​​Halo design features a central ruby ​​stone surrounded by one or more diamond 'halos'. This design uses diamonds as supporting gemstones to give a more regal look to the center gemstone. Some absolutely stunning designs are halo ruby ​​engagement rings and are a great design choice for the couple who are interested in including diamonds in their engagement ring.





Shop VisionGold® Halo Ruby Engagement Rings
3) Vintage ruby ​​engagement rings

Some of the best sellers are vintage inspired engagement rings. These are Victorian and Art Deco inspired engagement ring designs with detailed filigree work on the rings. These are timeless and beautiful designs.


Shop VisionGold® Vintage Ruby Rings
4) Bridal Set Ruby Engagement Rings

Instead of buying wedding jewelry independently of the ruby ​​engagement ring, ruby ​​wedding sets match ruby ​​engagement rings and wedding bands. While the engagement ring and wedding rings can be worn independently, when worn together, they give a very royal and unique look as they both match each other perfectly.


Shop our VisionGold® ruby ​​engagement rings
5) Three stone engagement rings with rubies

Three stone ruby ​​engagement rings usually feature a ruby ​​as the center gemstone, and two other gemstones usually diamonds or rubies. That's wonderful


At VisionGold® we have beautiful hand-finished ruby ​​rings to suit all tastes and requirements at the most competitive prices on the market. Find yours now and benefit from our top quality construction and timeless designs