Nothing found. Please repeat.
Unsupported browser. Sorry...
Back

WOMEN'S JEWELRY

Zircon Yellow Gold 14k Fine Rings

Three Stone Diamond Rings

Morganite Engagement Rings

Christian Baptismal Crosses

Diamond Crosses for Women

MEN'S JEWELRY

Signs & Symbols Rings for Men

Mens Christian Rings-Religious Rings for Men

ZIPPO COLLECTABLE LIGHTERS

WEDDING BANDS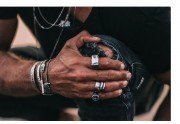 The 5 + 1 men's rings that should not be missing from your collection

1) Handmade Men's Rings Archangel Michael with top quality construction from our workshop that will impress you !!!! It's a really great ring for men who like to wear unique jewelry. If you like to stand out and pay attention and in the slightest detail is a ring just for you .... It will best fit your style while making a statement of faith. In a time where quality and art have given way to industrialized mass-produced accessories of poor quality we propose a purely Greek male ring made in our workshop with emphasis on the smallest detail and design to stand out.


2) Lion Handmade Men's Ring at an amazingly low price Without any discount ..... Of course the quality of the materials and materials where they are top not to buy anything less than what you really deserve, because you are unique And you need accessories too to signal and transmit this message to others. Stunningly designed by stunning vintage and contemporary This is a ring ... For today's man giving him the charm and style of past decades we admire the simplicity and immediacy of people.


3) Silver Men's Rings that combines stones and bold patterns for today's man who likes to stand out and win everything. Wearing such a ring will make you feel like a zen premier of Greek 60's classic black and white film !!! Just imagine it on your finger and become a protagonist in the work of your life ....


4) Men's Silver Ring With Black Stone ...... Really unique that you will love with its simplicity and timeless design. Whatever style you have adopted this ring fits. It is neither too big nor too small and it is for this reason that you can choose it without fear. The only jewel that should not be missing from your collection


5) Panther Men's Ring with Black Stones for a truly Wild look and Greek build quality from our workshop !!!! If you think you've seen everything in men's rings, Rethink it ...... The Panther is a dynamic animal and symbolizes the power of the night encourages us to understand power in the shadows and to recognize these forces to help us to eliminate our fear of the dark and the unknown !!!! A ring of aggression and power and at the same time the perfect men's jewelry-accessory for the man she likes at night


6) Silver Handmade Men's Ring with Black Stone and Dragon !!!! Just as unique as you would with a ring you will love as its center has a large black stone that fits that style and if you have adopted it on its side it has two dragons reminding of various concepts like that of courage but also of cruelty. !!! As a symbol of primordial power let the world see through the eyes of miracle and mystery having a powerful ally in your day-to-day with the amazing qualities of the dragon


 In our workshop you will find one of the most complete collections of men's rings all Greek made with high quality and aesthetics so that besides a daily fashion accessory you will also get a small work of art. Rings worth wearing to accentuate and emphasize your uniqueness