Nothing found. Please repeat.
Unsupported browser. Sorry...
Back

WOMEN'S JEWELRY

Zircon Yellow Gold 14k Fine Rings

Three Stone Diamond Rings

Morganite Engagement Rings

Christian Baptismal Crosses

Diamond Crosses for Women

MEN'S JEWELRY

Signs & Symbols Rings for Men

Mens Christian Rings-Religious Rings for Men

ZIPPO COLLECTABLE LIGHTERS

WEDDING BANDS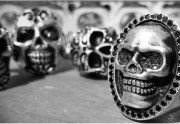 How the culture of gang gangs has influenced the fashion of men's rings
How the culture of gang gangs has influenced the fashion of men's rings

 29/8/2019

 The culture of motorcycles

 In recent years we have been seeing special clothing for motorcycle riders, headband jewelry and especially footwear to increase their popularity as they wear them as members of the Sons of Anarchy. In much of the world, the culture of the Sons of Anarchy practices a charm that brings the mainstream of the gang world to a wider audience, driving wandering expensive glossy machines.

 It is a way of life that many dream of, even if they will never dare. After all, everyone dreams of living in Freedom, the struggle against power, liberation from social rules, and generally exterminating the rebel who hides in them ..... Something by Marlon brando
 A great way to get into the culture of life of Sons of Anarchy is to buy one or more Rock look men's rings such as head rings and gothic rings !! There are no rules on how to wear these rings Although they usually wear one ring on each finger, so you have too many options to complete your style. At our VisionGold.org® jewelry workshop you will find a great selection of men's rings Certainly a single men's ring will not suffice as you will be impressed and loved by these carefully crafted and masterful little masterpieces. fashion accessories and a statement about your lifestyle you have made your own and a little work of art.

 Why are motorcycle riders wearing men's rings?

 Traditionally someone who was a member of a motorcycle club gang didn't miss one or more of the few rings that were usually designed with a head or other death scenes to remind them that life is short but at the same time to spell death .. There is no better way to reconcile your fears than to see them on a daily basis, either in tattoos or in rings, to get used to them.

 Another reason why they wore men's rings was to declare to which gang or club they belonged in order to make them instantly recognizable by other motorcycle riders .... Let's say something like a passport !!!! Another reason they preferred men's rings and themselves big and sharp was because they used them in various fights as a substitute for various other banned weapons or chains ...
 So many designs have been created that are aimed at motor lovers ..... Shiny, big shocks are hard to ignore by motor lovers. These rings shout from afar that they are "born to be different" !!! And another extra reason that motor enthusiasts prefer is that they instantly give the impression that the one wearing them can be dangerous.

 Where to find the best men's rings
 While now through the world of Internet there are many options before you make any purchase Visit VisionGold.org® online and see a wide selection of men's rings we have built for you and take advantage of the low prices we offer along with quality and make sure you make the best purchase in terms of quality.
  So to complete your Rock look and declare your uniqueness today make your own A Men's Ring by VisionGold.org® !!!