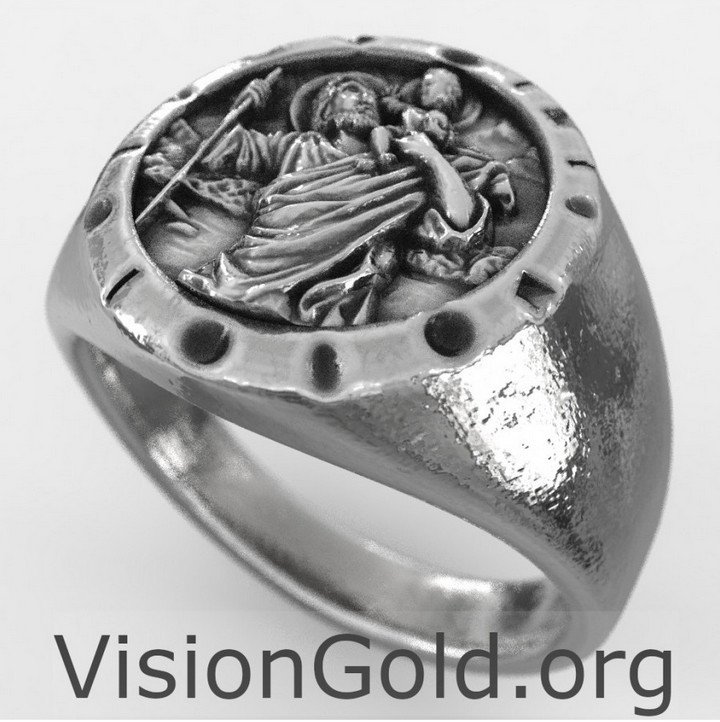 What does St. Christopher's necklace and ring mean?
Saint Christopher has a cultural association with protection and people have been giving necklaces and rings bearing the image of Saint Christopher to loved ones who have been traveling for decades.

Take a look at how this symbolic practice of St. Christopher's necklace and ring came about and why people continue to revere these symbols to this day.

The Legend of Saint Christopher





Saint Christopher was an antiquated figure, originally born as Reprobus, who according to legend, carried the Christian God, in the form of a child, on his back over a raging river.

Whether this apocalyptic story actually happened or not, the large man's alleged martyrdom for his faith made him a holy figure in the Catholic world.

However, questions arose about its legitimacy and in 1969, the Catholic Church removed it from its world calendar.

This was the most the Church could go without completely revoking his canonization.

In the meantime, people began to gift their loved ones with Christian or religious jewelry, and St. Christopher's necklaces and rings were one such symbol that was often given as a promise of protection.

Saint Christopher carrying baby Jesus

The meaning behind the Saint Christopher necklace and ring

Inspired by Saint Christopher's ability to protect the child on his back from the dangerous waves of the river they were crossing, these jewels have come to represent protection, especially for travelers.

Giving someone a necklace or ring bearing the face of St. Christopher conveys a sense of protection to them, as well as conveys your love for them with the tangible expression of your desire to keep them safe.

Who to give a necklace and the ring of Saint Christopher

A St. Christopher necklace or ring is a wonderful gift and is suitable for so many different occasions and for people of all ages.





Travelers

 

St. Christopher's jewelry is believed to bring safety and good wishes to travelers, and a St. Christopher's necklace or ring would make an ideal gift for someone going on a trip or who travels often.

In particular, this locket would make a wonderful and thoughtful gift for a family member embarking on a special or long journey, such as a military service, as the Saint Christopher necklace remains close to their heart.

Children

Saint Christopher jewelry is a special gift for toddlers and babies as it reflects the beginning of their journey in life.

This would make a great baby shower gift or new mom gift.

Even if the child doesn't wear the necklace until they grow up, these necklaces make an heirloom gift that can be set aside until the child is old enough to care for and appreciate it.

Students

Considering that a student leaving home to live away at college or university is embarking on one of the greatest adventures of their life, and for many their first great solo travel experience, to be presented with a St Christopher's Medal

it will be considered incredibly thoughtful as it is often their first major travel experience away from home.

Guides





Many truck and car drivers are seen wearing rings or amulets of Saint Christopher.

Those who drive a lot might find a St. Christopher necklace or ring a thoughtful gift, as driving is a stressful activity and could be used as a gentle reminder that there are people who love them and wish them a safe return.

Types of Saint Christopher necklaces

Although the necklace is the typical style of jewelry created with this religious iconography, you can find ways to customize these necklaces to fit your personal style.

Keep it traditional - There are many necklace options to choose from with this traditional style, usually made from metals such as silver, gold and stainless steel.

Choose unique materials - Necklaces are traditionally worn on chains.

However, they look just as good when worn on other materials such as leather buckles.

This modern take on the traditional style would make it appealing to teenagers or people looking for something a little different.

Make it sparkle - Gemstones can make an attractive addition to pendants, and a few tiny diamonds or other precious or semi-precious stones can make a very special necklace for your loved ones.

Choose an antique - Antique or vintage St. Christopher necklaces can bring a historical feel to your traditional wardrobe and





They make the perfect gift for the vintage lover in your life.

Care for the Saint Christopher necklace

As long as you treat your St. Christopher necklace and ring with care, you will get years of enjoyment from it, and since a St. Christopher necklace is a special gift that can be passed down through the generations, you want to give it a little extra care,

so that it can be preserved for future owners to enjoy.

Here are some tips on how to keep your St. Christopher necklace and ring in pristine condition:




When not wearing the necklace or ring, store it carefully wrapped in tissue paper or a soft cloth.

This is especially important with metals such as silver which are naturally prone to tarnishing over time.

Check the clasp regularly and add a safety chain if necessary.

Most jewelers can add a safety chain for you and these pieces can give you some added security if the main clasp breaks.

Clean St. Christopher regularly.

Your jeweler will be able to advise if special cleaning supplies are required, although the most common metals used (steel, silver or gold) can be cleaned using their usual cleaning treatments.

Give the Gift of Protection

A St. Christopher's necklace or ring is a special piece of jewelry that serves more than just an aesthetic purpose.

Whether you've been gifted one by someone you love or plan to gift it yourself, if cared for properly, these pieces of jewelry can be treasured for many years.